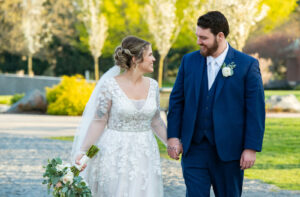 We know that planning your wedding takes a lot of coordination. We are here to help! Click the link below to check out a great guide to creating a wedding day timeline that will make sure you have enough time to capture all of the best moments without ever feeling rushed on your big day!
Where to start with a wedding day timeline?!
There is so much excitement after the proposal! Sharing your big news, picking a date and venue, securing your favorite DJ and Video services from Elite Entertainment. Then what?
When it comes to nailing down your timeline for the day, there are a lot of things to consider. You can trust your Elite Entertainment team leader to help you through the timeline process so moments aren't missed and you don't feel rushed.
Organize your Details.
Check out your online planning account and enter at least what you know for sure. Your ceremony start time, the reception start and end time and maybe even dinner service time will likely already be targeted simply from booking with your venues. These set times are a great place to start. A lot falls into place though the planning process, so don't put too much pressure on yourself to know every detail a year out.
Work backwards from your ceremony start time.

Allow about 20 minutes before the ceremony for your photographer to take some ceremony location detail photos, refresh batteries and memory cards and reserve an ideal spot to capture the wedding party processional. During that time, ushers will be seating guests and often times the couple is hidden away from guests' sight before the ceremony starts.
If you are seeing each other for the first time when walking down the aisle, your photographer will still work with each side of the wedding party before the ceremony starts to capture individual portraits, bridesmaids/groomsmen photos and immediate family groups if possible. Allow between 45 to 90 minutes for each side of the wedding party. Your photographer will catch detail photos of flowers, jewelry, special wedding party gift or attire items like tumblers, flasks or monogrammed getting ready robes during those preceremony photos as well. Have these items ready to go and make sure your photographer knows of the special things you've selected for your day. We want to know about the groomsmens' cool socks and customized bridesmaids' dress hangers so your details are captured.
During the pre ceremony and portrait session with a bride, you may need up to 90 minutes if you have a corset back instead of a zip up back or if there are unique details that need attention when photographing, like a long veil or train. For a groom, you may not need much more than 45 minutes since the details are a bit more simple to capture. If you are having a first look and having couple and wedding party portraits captured before the ceremony, allow another 45 minutes to the pre ceremony portrait time.
Capture your family portraits immediately following the ceremony.

After the ceremony, make sure grandparents, parents and siblings all stick around. Family will typically be photographed at the ceremony location. Then the wedding party can move around and have photos in different location if time allows. Typically 45 to 60 minutes is enough time to capture the families and wedding party. Be sure to accommodate for travel time if you are taking some of the photos in a different location.
Be in the moment for your reception!
The reception rolls out with a fun energy to start the celebration! Grand entrance, cake cutting, toasts and speeches can take up to 30 minutes before the dinner service begins. Typically the formal dances will start about 90 minutes after the start of dinner. To be sure your photographer captures some of the fun your guests are having in addition to your reception traditions, we typically recommend wrapping up photo services about three hours after the start of dinner.
With our professional team including DJ and Video bundled with your Photo service, Elite Entertainment can provide a level of coordination that allows you to truly enjoy your reception!
Here's a break down of general time allowances to keep in mind:
Bride pre ceremony prep/details/portraits [60-90 minutes]
Groom pre ceremony prep/details/portraits [45-60 minutes]
First Look? [15 minutes]
Pre ceremony prep/details during guest arrival [15 minutes]
Ceremony [20-60 minutes]
Sign marriage license [10 minutes]
Portraits with family at ceremony location [30-45 minutes]
Portraits with wedding party [30-45 minutes]
Grand entrance, cake cutting, toasts/speeches [30 minutes]
Dinner [60-90 minutes]
Formal dances [8-15 minutes]
Garter/bouquet, anniversary dance [20 minutes]
Photo services typically end three hours after the dinner start time
With our professional service and guidance, your wedding day will be well organized. The Elite Entertainment team is excited to capture your favorite moments and provide images that take you back to your best day ever!