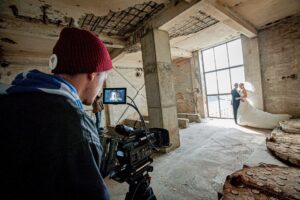 Your wedding is one of the most special moments in your life that you want to have a record of. Photographs are good, but with videos, you'll be able to capture more expressions and the feel of the atmosphere at your wedding to remember. Here at Elite Entertainment, we often advise that our couples have both photography and videography used to document their wedding.
Although everyone has smartphones nowadays and lots of mobile editing apps, you can't rely on your friends and family to capture your wedding. It'll rob them of the opportunity to take part in and enjoy your wedding too. For more reasons why you should get a professional to capture your wedding event, read the following paragraphs that we've put together.
They Have the Right Equipment
It would be best if you had the proper equipment to do an excellent job of capturing your wedding. Your friend or cousin with a smartphone will not have one. You can only get quality content at your wedding if it is captured with the perfect set of equipment.
They'll know the right angles, lighting, and editing skills to bring out the best in your wedding videos. This is because they have experience and can handle any situation and make the best out of it. If you want quality video content from your wedding, professionals are the way to go.
They'll Have Brilliant and Creative Ideas
They'll be able to come up with a way to make the videos from your day look better and unforgettable. You'll be amazed at the variety of options that you have, and you can tell them exactly which you want. Isn't that more convenient?
You and Your Cousin Will Be Able to Enjoy Your Day
Your wedding day is a big day in your life. You can't spend the whole day worrying whether cousin Luke has been getting the right angles with his iPhone or not. You'll already have other things to worry about, so why add to it? Hire a professional so that you can have fun and enjoy the moment with your family and friends.
Here at Elite Entertainment, we can gladly handle your wedding entertainment, photography, and videography. We're located at 14061 E Thirteen Mile Rd #4, Warren, MI 48088. You can call or send us a text at 586.415.4800 and leave us an email at YourTeam@WeddingsByElite.com