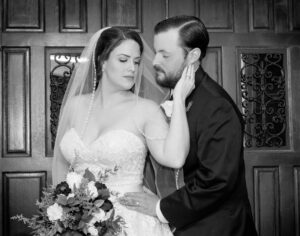 A lot of couples these days choose to have a first look photo session before their actual wedding ceremony-and honestly, with the services of the right wedding photographer, the photos from this session can be amazing!
If you're wondering what the pros and cons of a first look are and if you're undecided on whether it's you, just keep reading; this post will help you decide on what works best for you.
One of the major pros of having a first look photo session is the fact that you will have the time to relax and enjoy each other's company well before the ceremony (which will definitely ease the nerves and anxiety).
But if you feel that you might get even more nervous surrounded by the wedding party, videographer, and photographer, a first look photo session might not be a good idea for you.
A First Look photo session can also help you save time. This is especially true for couples who don't want to be away from their guests for too long after the ceremony. Because you will shoot most of the photos before the moment you exchange your vows, you will have more time to spend with your guests after the ceremony.
At the same time, keep in mind that this means that you will have to wake up earlier on your wedding day too-so it might not be a good idea for you if you aren't a 'morning person.'
A first look photo session can help you avoid shedding tears at the altar (because you will have already seen each other and probably wept during the first look photo session).
Still, if you feel that these kinds of pictures will ruin the surprise element of the actual ceremony, you can also try to find a compromise solution-such as not wearing all of your accessories and veil during the session. So, there will be something you and your partner won't see until the ceremony.
If you've been looking for a wedding company to handle your wedding music, videography, photography, accent lighting, and more, Elite Wedding Co. is here and we would love to cater to all this for you!
Elite Wedding Co. is an expert in the wedding industry and we would love to work with you and help bring your idea of the perfect wedding to fruition.
Click here to contact us today! Better yet, come see us at 14061 13 Mile, Suite 4 Warren, MI 48088. Call us or send us a text at 586.257.2573 and leave us an email at YourTeam@WeddingsByElite.com.