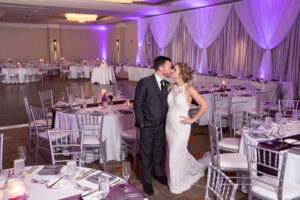 Uplighting is the placement of individual lights at the base of points of interest, typically around the perimeter of your reception space. Our cordless battery-operated lights project upwards to highlight your venue. But at Elite Entertainment, we offer more than just uplighting… we also provide several other accent lighting options like smart lighting, monograms, sparkular effects and more! Utilize any of our accent lighting options to draw attention to the gorgeous details of your wedding décor and give your reception space a wow factor. Accent lighting is excellent for almost any kind of wedding. Below are some things to consider to help decide if this would be perfect for your big day!
● Is your reception celebration in an elegant space?
When getting married in a stylish venue, accent lighting is the best way to highlight the individual details, like the venue architecture, the grand entrance doorway, the dance floor or the cake table. Accent lighting is an excellent option to consider in a classy hotel, historical building or luxury grand ballroom.
● Is your venue simple?
Many things are considered when choosing a location. Sometimes, these choices aren't because of how beautiful the venue looks. Instead, the venue could be chosen because of sentimental reasons, the location, the size of the venue or the price point. If you selected a wedding venue that is a blank slate ready for decor elements to meet your vision, accent lighting can help make the space unique to your wedding day.
● Is your wedding indoors?
If your venue is indoors, accent lighting can accentuate your wedding décor from the moment your guests arrive. Uplighting comes in many colors, so you can easily make your venue look creatively unique and glamorous. Other accent lighting options can personalize the space as well, like a monogram with your names on the dancefloor or sparkular effects during your
grand entrance. That said, accent lighting can also be great for the later hours of an outdoor wedding too! Accent lighting options will create an ambiance as the natural light of the sunsets.
● Is the party going into the evening hours?
If your wedding reception is going into the night, this is the perfect time to use uplighting at your venue! When the room lights are dimmed after your formal dances, accent lighting options will enhance the look of your reception space.
If you are searching for a professional company to install uplighting or any other accent lighting option at your wedding reception, Elite Entertainment can help you! Bundle your lighting options with a DJ package for great savings and further customized service. With Photo, Video or Photobooth services on board as well, benefit from our experienced team chemistry to create the amazing wedding reception space of your dreams! Let's chat about your vision and review all of your options. Call Elite Entertainment today!