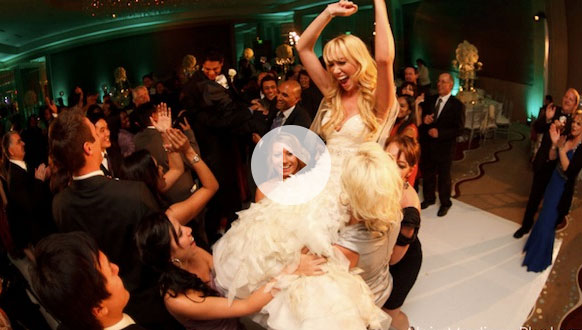 Your wedding is a once-in-a-lifetime experience. Like so many of the great moments in life, the day will go by more quickly than you think, and once it is over, there is no going back. However, you can preserve the experience and relive it whenever you want, as often as you want, with wedding videography in Macomb County.
For some couples, videography is a low priority during the wedding planning process. Sometimes it is even an afterthought, something that the bride arranges at the last minute. Some may think that the wedding videography will be obtrusive, while others may doubt that they will ever watch it and therefore deem it an unnecessary expenditure. Nevertheless, one of the major regrets that couples express after the wedding is not hiring a videographer to capture the details of their special day.
We do not want you have any regrets like these. That's why we want you to know what videography services in Macomb County can accomplish for you.
Add Another Dimension
Wedding videography is not intended to replace photography but to complement it. Still photos are wonderful keepsakes that are easy to display around your home. However, they are limited in that they only capture two-dimensional images. They do not capture voices or sound, meaning that they can only tell part of the story of the happiest day of your life.
During the ceremony, we use unobtrusive wireless mics to capture your vows, including the trembles, giggles, and sighs that express what words cannot. We will blend into the background during the ceremony. It is not our purpose to intrude upon your experience but to enhance it, and our videographers always use discretion.
Bring the Wedding to Those Who Cannot Attend
Inevitably, some of your loved ones will not be able to attend your wedding, as much as they might like to. However, they can experience the next best thing when you show them your wedding video. With new digital streaming, even distant loved ones can watch the wedding from anywhere. They will likely feel as though they were really there with both the ceremony and the reception captured in high definition. In the future, this can become a precious memento that you can share with your children and grandchildren.
Capture Every Detail
As much as you may tell yourself to pay attention to your wedding day and commit every detail to memory, there are some moments that you will inevitably miss, either because you were not present for them or because they passed by in a blur due to the sweep of emotions. Our videographers have the skill and experience to capture these moments in crystal-clear detail so that you can enhance your memory of the event.
Enhance the Emotions
If you're still hesitant about hiring a wedding videographer in Macomb County, understand that what you get from your video package is so much more than just the raw footage of your wedding day. Rather, you get multi-camera coverage from cinema-quality devices edited together, typically with music added, to tell your story to the greatest possible emotional effect. In a sense, it is though you are starring in the movie of your own personal romance.
Customizable
Your love story is unique, and your wedding video should reflect your tastes. We understand that it is the personalized touches that will make your day so special. That's why we work with you to customize your wedding video according to your preferences.
Bundle More Services and Save
Elite Entertainment is a wedding services company that provides not only wedding videography in Macomb County but also disc jockeys, wedding photography, etc. The more services you select from us, the greater your savings will be. For more information, call us today at 586-415-4800.