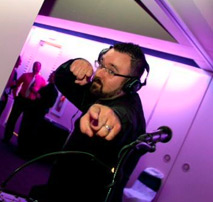 Planning a wedding is no easy feat. Once you've decided on the banquet hall, picked out a tasty menu, and designed your decor, you'll also need to give some thought to choosing wedding DJ services in Troy, MI. Great entertainment will boost the enjoyment of both you and your guests, while also ensuring your song selection remains appropriate for the event. Because finding the right DJ is crucial, many soon-to-be couples trust in Elite Entertainment.
Considered the best wedding DJs in Troy, these entertainers offer much more than just music. They also interact with guests and make sure the atmosphere of your wedding remains upbeat and engaging for all in attendance. Thanks to their prowess at putting on an affair to remember, they can also help you in choosing an emcee for your nuptials. The following are a few questions you can ask a prospective candidate to determine whether he or she is a good option for you.
Do You Have a Personal Style?
No two wedding DJs are alike. Some employ a fun and jocular tone, while others put the emphasis on romance. Others still might have a taste for rock music, while another choice may be a master of golden oldies. While you'll most likely provide a selection of music you want to be played during your reception, it's important that the DJ's personal style meshes with the tone of your wedding.
How Are Equipment Malfunctions Handled?
Even the best wedding company can run into equipment issues from time to time. The real question is how will these issues be handled? It's best for a company to have backup equipment onsite in the event of an emergency so your reception can proceed with minimal interruption. Some even employ the services of a backup DJ in case yours is suddenly unavailable. These considerations show that a company is well-prepared and dedicated to customer satisfaction.
How Do You Approach Crowd Interaction?
A DJ is not there to simply spin records and take requests, although that's obviously a significant portion of their duties. They'll also need to act as emcee, which entails a lot of crowd interaction. Crowd engagement is important for a fun affair, especially when it comes to dancing. DJs can entice people to get on the dance floor using a few different methods, including humor and bantering. Some might be a bit more assertive than others, or even employ ribald humor to entertain the crowd. Is your wedding going to be a family-friendly affair or do you see it as a more adult-centered event? These are important factors to discuss with a potential emcee.
Can I See a Sample of Your Work?
Many DJs keep audio or video recordings of their past work. These recordings provide a better perspective on what you can expect, which is why it's a good idea to request a sample of their work. You can also ask for references from past clients. A good DJ should be able to direct you to a number of satisfied customers, who can shed light on their strengths and weaknesses. Contact Elite Entertainment to request sample work of our DJ's.
How Are Song Request Handled?
Song requests are a common occurrence at all weddings. It's a party after all, so it stands to reason that your guests would want to hear their favorite hits. DJs have varying policies on song requests, some of which are informed by the couple getting married. For instance, you might prefer that song requests are not allowed, in which case a DJ must have a diplomatic way to inform guests. If you do allow requests, ask how they'll be handled. Most DJs prefer that requests are written down and provided in an orderly fashion, as a continuous stream of attendees at the DJ booth can be distracting.
Contact Elite Entertainment
If you're currently on the hunt for wedding DJ services in Troy, MI, Elite Entertainment offers all of the above and so much more. Along with their DJ and emcee services, they also provide lighting design, photography, videography, and photo booths. Contact us by filling out our online form or calling (586) 415-4800 for more information.