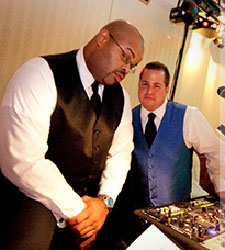 When you're planning a wedding reception, you have many things to consider; the food must be just right, you need to provide enough alcohol, the reception hall should look gorgeous and your guests should be comfortable. That's a lot to keep track of, even before you get to the entertainment! If you're undecided about your options, here are a few reasons why you should hire a wedding DJ in Grosse Pointe, MI.
Create the Right Vibe
Your wedding reception is more than the sum of its parts. A key component of this is the atmosphere you wish to create. That's what most of your guests will take away from your event, so you want it to be memorable. With Elite Entertainment's wedding DJ services in Grosse Pointe, MI, you have the capability to set almost any type of party mood you desire. Need a variety of music genres to please a diverse crowd of guests? Want your attendees to enjoy the music whether or not they decide to dance? Our wedding DJ's can accomplish these and other goals you may have for your big day.
Keep the Music Going
Another advantage of hiring a wedding DJ is that your professional won't need to stop the music. A live band will stop playing for intermissions throughout the evening. If you've been enjoying the tunes all along, you may find it jarring when they suddenly switch to playing a CD while on break. With a DJ, the songs continue to flow and you have a continuity of experience during the entire reception.
Perfect for Introverts and Extroverts Alike
How many times have you gone out, intending to enjoy a relaxing evening, and you're put on the spot at a live event? Perhaps it's been a well-meaning band leader or performer wanting to get the audience involved, but all you want to do is enjoy yourself. That's the great thing about hiring a DJ. These professionals have a less intrusive approach: play the music and keep the evening flowing. They contribute to your event's vibe with their presence and expertise, but you and your guests are the real stars of the show. For your friends who'd rather blend in and relax, having a DJ lets them do this without ever putting them on the spot.
Versatile Entertainers in Any Space
Whether you've booked a large rustic barn, a medium-sized ballroom or a small restaurant, you can easily accommodate a disc jockey. Most DJ setups require less space than live bands, which means they can fit into virtually any space. An experienced professional knows how to adjust to your venue's dimensions and acoustics, resulting in proper sound volume and balance throughout your event.
Great Entertainment for Any Budget
A live band can certainly offer a unique experience, but you must consider feasibility within your wedding budget. Live band rates can fluctuate widely depending on each ensemble's makeup and specific requirements. In contrast, DJs are usually far less expensive. Even a basic DJ package can provide the fun and entertainment you desire, with additional options that can make your reception even more unique.
Professional Assistance and Expertise
An experienced wedding DJ can be an invaluable asset when you're planning a reception. Drawing on years of expertise, our professionals can offer recommendations and advice on everything from playlists, transitions and scheduling. Your DJ is a committed partner in making your wedding reception an unforgettable affair.
Start Planning Your Event Today
Elite Entertainment is an award-winning company offering wedding entertainment services such as photography, videography, photobooths, and accent lighting. With a wide range of packages and options, we can help make your Michigan wedding truly amazing. To find out more about a DJ for a wedding in Grosse Pointe, MI complete our information request form or call us at (586) 415-4800.