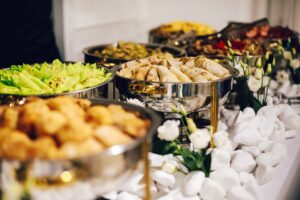 If you need a Detroit caterer that will work with you and ensure your event menu is riddled with excellent and delectable meals, we highly recommend Sopranos Catering. We have worked with them on many occasions and they are easily one of our favorite caterers.  Join us in welcoming them this week in our vendor spotlight series!
What do couples choose them over other catering companies?
Sopranos Catering is a third-generation catering company that stands out in style, elegance, and experience. The company was established since 2001 and is specialized in homemade Italian cuisines and also offers many other European and American-inspired menu items as well.
They handpick their food items from the Eastern market and have the facility and staff to cater to at least 25,000 people in a ceremony.
What kind of events do they cater?
Sopranos Catering is one of Michigan's top catering companies and is perfect for your corporate events, wedding receptions, bridal/baby showers, graduation parties, and many other special events.
Their corporate events menus are tailored to meet each event's style and needs and always designed to meet seasonal needs too. Their services comprise delivery, set up, and clean up.  They also offer cake-cutting services, dessert, cocktail reception, and tastings.
What should couples expect when they hire Sopranos Catering for their wedding?
Sopranos Catering is known for their superb customer service. When they are catering for your wedding, they do all it takes to provide the perfect wedding menu for you. They will work very closely with you throughout the event and create a menu that everyone will appreciate.
They offer a variety of menu options for your wedding and are always happy to conceive new and unique ways to create a personalized and unique wedding menu just for you.
As one of Michigan's best in the entertainment industry, Elite Entertainment has all it takes to make your wedding fun and memorable. We have the best in everything from your wedding photos, lighting, video, DJ, photo booths, dancing in the cloud effects, and so much more, all customized for your special day.
Contact us today for an amazing wedding experience. We take pride in making sure our couples have the tools and resources available to plan a unique and amazing wedding.