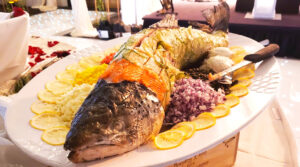 If you need a beautiful wedding venue where you and your wedding guests will be served the best of meals and in the most unique ways, the Mirage Banquet and Catering will more than satiate that need.
They provide some of the best catering services in Michigan. We can affirm this because we have worked with them and fully understand how capable and professional they are.
In this week's edition of our vendor spotlight series, we will be featuring the exceptional Mirage Banquet and Catering!
What are the unique features of Mirage Banquet and Catering?
The Mirage Banquet and Catering is an elegant and beautiful venue with some of the best interior designs and decorations to grace an event space.
They also have several amazing amenities and facilities for you to take advantage of.
Their excellent customer service and unmatched catering services, offered within and outside their venue, are what really make the Mirage Banquet special. They literally bring their catering services to you.
How many sections are there within Mirage Banquet and Catering?
The Mirage Banquet comprises some amazing and well-equipped event venues like the 4,500 sq. ft. Vincenza Ballroom, which can hold more than 300 guests. This magnificent event space houses a 900 sq. ft. dance floor which has been the favorite part of the venue for many a couple.
Then there's the 4000 sq. ft. Jionni Ballroom which can accommodate over 200 guests.
We must mention the 3,000 sq. ft. Rose Ballroom too, with its grand 500 sq. ft. dance floor and capacity to and hold about 200 guests.
Last but not least is the Mezze Mirage venue which is more suitable for more compact and intimate weddings or other smaller albeit special events.
All the event spaces have beautiful and extraordinary designs and offer a full-service bar for your convenience and pleasure.
What wedding packages do they offer?
The Mirage Banquet and Catering offer a variety of wedding menus and superb catering services that come in wedding packages like the supreme and the ultimate wedding package.
Each of these packages is packed with delectable meals and fare that will please every guest in attendance. What more could you ask for, with different types of homemade soups, their special mirage vinaigrette, entrée choices, vegetable variety, pasta, and other exciting menu options?
In addition to a beautiful wedding venue and fine dining, every wedding also needs exceptional entertainment and wedding services. That's one of the core factors that makes or mars a wedding ceremony.
Couples don't just want entertainment; they want unique and unmatched music and entertainment, and that's exactly what Weddings by Elite offers!
Weddings by Elite is a professional wedding company from Warren, Michigan, and we're always ready to put a smile on your face!
We provide exceptional services for you anywhere within Michigan and its surrounding areas, chief among them being our DJ and photography.  As well as custom lighting services and the utterly fun and unique 360 Booth-photobooth!
Weddings by Elite have skilled and talented professionals ready to cater to every aspect of your wedding, so if you want exceptional wedding photographers, DJs, and videographers, you'll find them right here. After all, at Weddings by Elite, we believe ALL 'amazing weddings start here!'
Contact us today for a truly fun wedding ceremony and an unforgettable wedding experience.