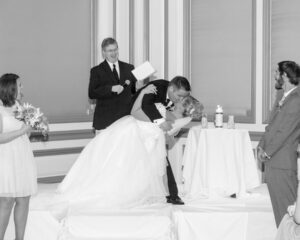 Weddings are all about celebration, fun, and entertainment. A large part of this entertainment depends on the music played at the wedding. Thus, it's more than imperative you play perfect songs at your wedding; uplifting songs that will have every guest smiling. If you want to know how to select the perfect songs for your wedding, keep reading!
Employ the Services of a Professional DJ
Professional DJs have the expertise and experience in wedding entertainment. While planning your wedding entertainment, make sure that you secure the services of a professional DJ and have a detailed discussion about the types and list of songs to be played at your wedding.
Feel free to ask questions and be open to any suggestions from your DJ since they probably know considerably more about wedding entertainment than any of your other vendors.
Be Open to A Variety of Musical Styles
Since your wedding guest list will probably be made up of guests of different ages and culture-with different tastes in music-not everyone will enjoy a particular music.
For example, the teenagers are likely to enjoy modern upbeats, while the older guests may dance better to songs they could relate to while they were still youths. Thus, you should feature a variety of musical styles to meet the different tastes of your guests.
Choose Songs That You and Your Partner Can Relate To
While choosing your wedding playlist, you should select songs that you and your partner can relate to and enjoy during your wedding. 
If you are wondering what songs will fit, simply contact your wedding DJ and let them know you and your partner's music preferences; songs that you both love listening to. With this, your DJ can select the perfect playlist for your wedding.
Making your wedding ceremony or reception an event to remember involves much more than just selecting the right songs. You also need the right DJ to set the mood and make the entire celebration a success. That's where Elite Wedding Co comes in!
We provide you with professional DJ services, photography, videography, and more! As long as it concerns wedding entertainment, it concerns us. From DJ services to our amazing photo booth and many other exceptional wedding services, Elite Wedding Co is here to make your dreams come true! Contact us today!