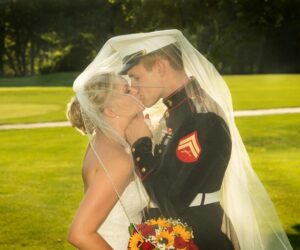 You might have invested a lot of time and money into securing that gorgeous and glamorous gown you wore on your wedding day. Now the wedding is over, what next? Wouldn't it be worth it to have an epic time rocking your dress one more time? 
Rock the dress sessions can be the second most exciting activity you will experience in your wedding dress. You don't have to bundle up and store away your wedding dress just yet!
Why not have some incredible and memorable photo time with your spouse in your wedding dress? Here are some tips for the perfect "rock the dress" session!
Select Your Favorite Casual Accessories 
Who said you must stick to your wedding day jewelry during your 'rock the dress' session? You can put on any jewelry of your choice, pick up some beautiful shoes, get some fancy gloves, etc.
For your 'rock the dress' session, you can ditch just the veil or have your hair down in a sexy manner during the photo session. Come along with comfortable accessories that you can rock throughout the session. 
Visit Beautiful Locations for Your Photo Shoot
A great thing about having a rock the dress session after your wedding is that you get to explore various locations to take pictures of your wedding dress.
The perfect place for your pictures depends on you. You can consider having some romantic 'rock the dress' session on the beach or go to the farm or ranch for the rustic style.
If you and your partner are nature lovers, why not have it in the garden, woods or even in the mountains. When choosing your venue, you should have in mind that your options are limitless.
Come Along With Your Spouse
The 'rock the dress' session is all about having fun and making sweet memories that will last a lifetime. Don't let your partner miss out on such a memorable session. It is the perfect opportunity to relieve yourself of the wedding day stress.
Photos taken during the 'rock the dress' session are usually more relaxing, fun, and memorable.  The groom can rock different styles during the session, like rolling up his sleeves, ditching the tie, or putting on casual wear instead of the tuxedo.
If you are searching for professional wedding photographers to capture those fun memories during the 'rock the dress' session after your wedding, or perhaps you need a photographer to cover your entire wedding, Elite Entertainment is the perfect wedding company for you!
We provide extraordinary wedding photography services and other professional wedding services like wedding videography services, DJ services, video booth, and photo booth services.
You can reach out to us for these and other exceptional wedding services. Contact Us today for an exciting and unforgettable 'rock the dress' photo session!