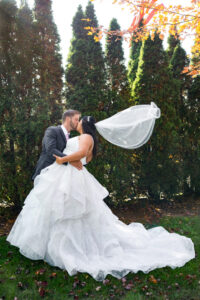 Amazing photos will be one of the most important keepsakes from your celebration. Priceless moments and memories are captured while you have a blast with your wedding party, family and guests. The Elite Entertainment team works with you through the planning process and on the wedding day to be sure your everything goes smoothly so you enjoy every minute. Here are
some tips from our creative professionals to keep your wedding on track to be the best day ever!
● Choose your favorite photographer early. Book photo services about a year before your
wedding. Take that task off your to do list as soon as you have your date and venues
secured. Check out photos captured by each of the available Elite Entertainment
photographers with demo videos. Any photographer on our team will take great care of you,
but you might see an image or style in a particular gallery that resonates for you.
● Connect with your photographer. Your photographer will be with you for a significant part
of your wedding day. Add an engagement session so you have time to work with your
photographer before the big day. This will give you a chance to chat not only about photo
poses and style but also maybe to share stories about how you met or what you named your
new puppy. You'll never know what details will inspire the photos that will be most unique to
your love story.
● Communicate your needs and priorities to your photographer. To ensure photos after
your ceremony go smoothly, be sure your photographer knows about the most special
people in your family and wedding party. You easily can add those details in your online client
account planning forms at any time. As the date gets closer, chat with your photographer
about style, such as if you prefer classic portraits looking at the camera or if you like a more
candid photojournalistic photos. Make sure to point out any special items (mom's necklace,
grandpa's watch or a handmade invite for example) so they are sure to be captured in detail
photos. With open communication, your photographer will be best prepared to meet your
expectations.
● Share the wedding timeline. Your Elite Entertainment team leader will work with you about a
month before the wedding to coordinate when and where portraits will be taken. Be sure
those included in portraits get a copy of the timeline so nobody is missed! Review the details
with your hair/makeup artists, limo driver or anyone else that might hinge any changes so
everything is buttoned up well before the big day.
● Trust the years of experience your Elite Entertainment photographer brings to your day.
A true professional can guide you through your wedding day photos with an eye for light,
detail and location. After months of planning and organizing details, let yourself be in the
moment and trust your photographer to keep the ball rolling.
When you are searching for a talented and experienced photographer to capture the best
moments of your wedding, Elite Entertainment can help make your vision a reality! With our
professional team on board with DJ, Video, Photobooth and Accent Lighting as well, you can
benefit from the team chemistry of one of the most trusted wedding teams in the Metro Detroit
area to create an exciting and memorable experience for you and your guests! Call our office
today to chat about the details!