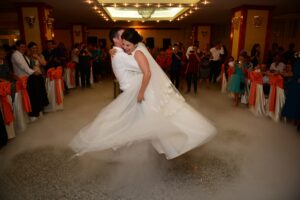 All the hard work that you've done for your wedding day culminates in one moment: The last dance. It will be such an emotional moment, and here at Elite Entertainment think that the best way is to end it on a high note. To do that, you can't just use just any song; you need a fantastic last song. In light of that, here are some tips from us on how to choose a tremendous last song for your wedding.
Your last song on the day of your wedding should reflect your excitement to start your new life as a married couple. The moment doesn't have to include fireworks, but a song with a fun lighters-in-the-air vibe is a must.
A song that gets everyone on their feet and singing along is a great one to end your wedding with. A wedding is about uniting two families, after all. What better way is there to signify this than by doing your last dance together?
Choose Something Meaningful
The last dance song that is meaningful to you and your partner is a nice touch to such an emotional moment. An inside song that just you and your partner know is probably not so good for this moment because you want to involve your guests in it too.
If you've had a fun night and you end it with a slow, sad song, that could end up being the vibe that your guests remember about your wedding. Keeping it light and fun is a better way to cap things off. Especially if that's the theme, you've gone with the whole day and want your guests to remember.
Picture your guests on their way home humming the song that you used as your last song. It's a sure way for them to feel good about attending. They'll also remember this song whenever they think about your wedding and keep feeling good about the experience.
Here at Elite Entertainment, we can gladly handle your wedding entertainment, photography, and videography. We're located at 14061 13 Mile, Suite 4 Warren, MI 48088. You can call or send us a text at 586.257.2573 and leave us an email at YourTeam@WeddingsByElite.com