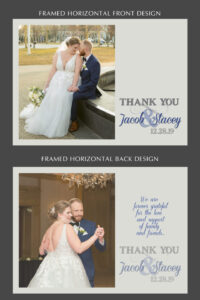 Your wedding has come and gone. Congratulations! Hopefully, it was all that you dreamt of and even better.
So, what comes next? Might we suggest you write "Thank You" cards? We understand that writing thank you notes can feel tedious at times but they're very important. They will remind all those who shared in your joy how much they mean to you. Your guests will appreciate the gesture more than you may know.
To get you started, here are some general tips when it comes to writing the messages in your wedding thank you cards.
Start Early
You might have read somewhere that you have a whole year after your wedding to send out your thank you cards. Well if you ask us, the best time is in three               months or less. It's a consensus at this point. If you, however, discover that 4, 5, or 6 months have gone by already don't panic; there's still adequate time to send       them to your loved ones. 
Set A Goal
Goals always help to get things done. Just like you did when planning your wedding, make sure the goal you set is realistic too. For example, you can decide to write 5 messages in one sitting. Once you get started, you'll discover that you might even be able to do more.
This is much better than setting a goal of 50 per sitting but only end up doing 10. A realistic goal will also help you do a better job.
Choose Your Words Wisely
The goal is to personalize your message, but that does not mean all 500+ of them have to be unique! Your guests are not going to compare your notes, but don't send everyone the same message either. You can use similar or the same wording where necessary.
Send Them All at Once
Of course you do not want anyone feeling left out. Endeavor to make everyone feel special. Write the messages, enclose them in the right envelopes, and mail them all together.
Do Not Crowd The Card
This is to make things easier for you. Take it more as a well-crafted short note to say thank you. If you do this, you'll be done with all of them in no time.
Here at Weddings by Elite, we have amazing save-the-date, change-the-date, and Thank You cards. They come with unique and customizable graphics that you can alter to reflect what your wedding had all been about. You can check them out here or contact us today.