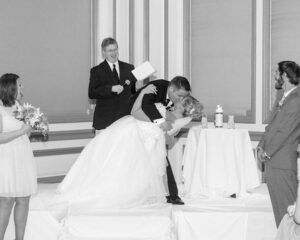 Every special moment on your wedding day should be captured, some by your wedding photographer and others are better captured by a videographer. Your photographer will get both posed and candid shots, but for everything in between, you need a videographer.
We recommend that you get a professional wedding videographer to capture those special moments on your wedding day. Below we have listed some specific questions to ask before booking a wedding videographer to ensure that they have all it takes to deliver flawlessly on your wedding day!
How Many Experiences Do You Have In Wedding Videography?
Not all videographers are properly trained to film a wedding, which is why you must hire a professional wedding videographer. Before hiring any videographer though, you must ask about their level of experience in wedding videography. This is very important to ask. 
What is Your Videography Style?
There are different videography styles that wedding videographers usually specialize in, so be mindful of that. Be sure you know which of these styles you like and that the videographer specializes in them before making your next move to hire them.
You want to hire a videographer whose style aligns with your dream video style. You can ask for samples of their videos to enable you to understand what they do better.
Have You Ever Worked With My Photographer?
Not all Photographers and Videographers work together, but since your wedding photographer and videographer will work closely throughout your wedding day, you will want them to have  a close relationship with each other.
If they've worked together before, in all likelihood, they will interact perfectly with each other. If they haven't worked together before, which can happen, you should encourage them to meet before your wedding or hire a photographer and videographer from the same company since you can count on them working well together.
Have you Worked At My Wedding Venue Before?
A videographer who has prior knowledge of your wedding ceremony and reception venue has more advantages than one who hasn't.
The reason being that the Videographer who has experience working at your venue will find it easier to navigate the venue to find the perfect lighting and angles to shoot.
If they haven't worked there before, ask them if they can pay a visit to the venue before your wedding day.
When Can I Receive My Videos?
For your videographer to make your wedding videos perfect, they need much editing, and that will take some time to complete. Before booking your wedding videographer, ask about how long it would take for your video to be ready, so you will know when to expect the videos.
If you need professional wedding videographers to capture your special wedding moments, Elite Wedding Co. is here and ready to go!
We provide the best and most unique videography services at your wedding. We also offer wedding photography services, DJ services, and photobooth services exclusive to our company.
You can reach out to us for these and many more exceptional wedding services. You can also Contact Us today for exciting and unforgettable wedding entertainment!