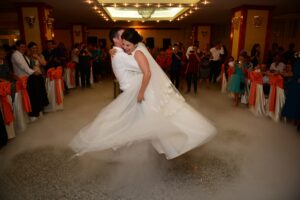 Ever been to the club and just been in the sit-it-at-the-bar-to-sip-your-drink mood but then the DJ hit a classic that propelled you out of your seat and the next thing you know you've jumped in the foray and are showing off your dance moves? Well, here at Elite Entertainment we know that you can achieve the same for your wedding.
While recent songs are a great idea for your wedding, classic songs have a way of engaging guests of all ages at your wedding and making sure your dance floor isn't empty. What are some of these songs I can include in my wedding playlist you ask? Read further to find out.
Happy by Pharrell Williams
Trying to get your guests in the happy and excited and on the dance floor? Then this is the one for you. Happy by Pharrell Williams is a bop that will have people dancing for years to come and still works now.
I Gotta Feeling by Black Eyed Peas
We've got a feeling that your wedding night is gonna be a good night with this one. This hit by Black Eyed Peas is sure to add life to your reception whenever it comes up.
Moves Like Jagger by Maroon Five and Christina Aguilera
This is one of those songs that is capable of getting you to your feet while reminding you of exactly what you were doing the exact first time you heard it. Adam Levine and Christina Aguilera's voices are just what you need to spice up your reception and have your guests breaking out moves like Jagger.
M.C.A. by The Village People
This song doesn't need much explanation. Any time our DJ brings it up, Y.M.C.A. will unite both the old and the young on your wedding reception dance floor.
Party Rock Anthem by LMFAO Feat. Lauren Bennett & Goon Rock
From the beat to the lyrics, Party Rock Anthem promises to give everyone a good time and it certainly delivers so be sure to request this one for your reception too.
Looking for great DJs who can get the feel of your wedding and know how to keep your guests entertained all night long? Then look no further than Elite Entertainment. We have just the right DJs to make your wedding entertainment a success that stays fresh in the minds of you and your guests for time to come. Contact us today!