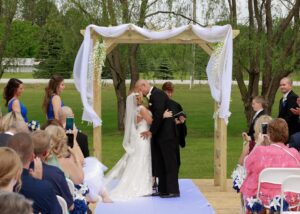 Whether it's a wedding photographer, caterer, florist, or any other professional in your team of wedding vendors, you'll always want the very best, won't you? Thus, it stands to reason you'll want to make inquiries about their services and pricing. The same is true for your wedding videographer too.
Asking about their videography packages will help you make an informed decision on what you really want for the grand day. But what happens when you're not acquainted with the terminology you see? This is particularly true for couples who have never worked with a video pro before.
With that being said, we're here to help you cross this little hurdle. It won't be amiss to familiarize yourself with these videographer terms because a time may come when you'll need to know them.
This is pretty straightforward because it just entails the exact amount of time a videographer will spend at your wedding. That's how wedding videography packages work. The more hours a videographer works at your wedding, the higher his pay will be, so most videographers offer packages that detail the exact number of hours they'll cover your wedding. Perhaps a 4-hour or 8-hour or even a 10-hour package.
The Total Number of Videographers
Much like the above point, the more the number of videographers at your wedding, the more expensive the packages. Most videographers work solo but it's not uncommon for them to have a few assistants in tow to handle the lighting, shoot from numerous angles, set up equipment, and more. Most of the time, one videographer should suffice but it doesn't, there are videography packages to cater to that.
This is arguably one of the most sought-after wedding videographer offerings. It's no more than a short video of 5 to 10 minutes set to excellent music that highlights the most important and beautiful moments of your wedding day.
Needless to say, this video is probably what you'll share with friends and loved ones more than any other, and perhaps with the online community too. It's perfect because it's long enough that the most important moments of the day are touched upon, but it's still short enough to keep the viewers engaged right to the very end.
A wedding videographer is all but essential for your wedding, but so is a wedding photographer. If your wedding venue is in Michigan and you're looking for a Michigan wedding photographer, look no further than Elite Entertainment.
We are Michigan's premier wedding entertainment company with an impressive number of satisfied clients to buff up our resume. We excel at what we do, and that's capturing weddings and preserving them in photographs you only grow fonder of as the years pass by.
We're located at 14061 13 Mile, Suite 4 Warren, MI 48088. You can contact us here or send us a text at 586.257.2573 and leave us an email at YourTeam@WeddingsByElite.com