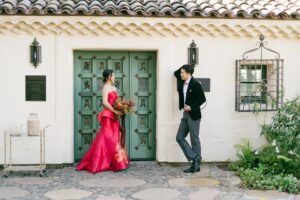 A significant factor you should consider when preparing for your engagement photo shoot is your choice of outfits. Many things determine the kinds of clothes you should wear: the colors and even the clothes' texture.
We have compiled a list of professional tips to help you select the perfect outfits for your engagement photo shoot. You and your partner will thoroughly enjoy the session. We guarantee it! Keep reading to learn how to select the perfect outfit for your engagement photo shoot.
Select Outfits You and Your Partner Will Feel Comfortable In
Because an engagement photoshoot usually takes a long time and involves many movements and changing positions, couples should select outfits they're very comfortable moving around in.
Uncomfortable clothes could lead to an awkward engagement photo session, hindering the couples from having much-deserved fun. However, you can immerse yourself with the right outfits and appreciate the love and romance thick in the air. You do all this while taking timeless wedding pictures. Comfortable outfits will make you feel relaxed and make the most of the photo session.
Select Outfits That Will Complement Your Partner's Outfit
Even if you don't have to put on matching clothes you can still put on outfits that complement your partner's outfits in terms of style and color.
Select clothes with a bit of each other's outfit colors. This always looks beautiful in pictures and tells your love story to the world.
The use of different shades of the same color of outfits works just as well too. Couples dressed in complementary outfits always stand out from everyone else in attendance.
You can also go for colors that suit your skin type and hair color to get the perfect engagement photos.
Select Clothes That Are Suitable for The Current Weather Condition
Putting on light outfits may look gorgeous on you and your partner, but such clothes may not be right for you, depending on the time of the year.
During the fall and winter seasons, you should go for your engagement photo shoot with thicker clothing that will help protect you and your partner from the cold weather. During the summer, however, light summer clothes work better, of course.
Selecting the right outfits with the weather in mind means you and your partner will stay comfortable throughout the photoshoot session.
Selecting the right outfits for your engagement photoshoot is very important, but you'll also need a professional wedding photographer to capture these lovely photos; professionals like
Elite Wedding Co. won't just provide you with professional wedding photographers for your engagement photoshoot; we will also be there for you throughout your wedding!
As long as it concerns wedding entertainment, we have the best of everything, from videography services to our amazing photo and video booths and many other exceptional wedding services that will surely interest you.
Contact Us today for the best in wedding photography and wedding entertainment.