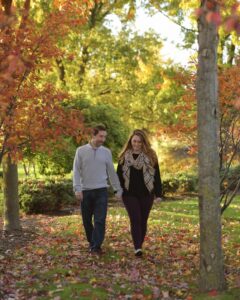 There are so many special places for taking engagement photographs in Michigan. It offers several opportunities for couples to celebrate the start of their new lives together. Romance is thick in the air so where do you go perfect to capture and preserve this perfect moment?
There are countless locations that offer the best backdrops for engagement photos, each location offering a unique ambiance that perfectly aligns with what you want your engagement photos to reflect. The 3 locations below have been favorites for many a couple and we suspect they'll end up being favorites for you too!
The Quarton Lake is small but it's size is not what makes this place such a lovely spot for your engagement photos. With a few tiny yet beautiful, colorful birds whizzing over the calm lake; and with placid geese and ducks lazily swimming and bobbing atop the green water, you're instantly reminded of a quiet, sweet, and peaceful forest.
Oh sure, the Lake may not draw crowds as national parks do, but that's good. If you want somewhere quiet that provides a breath fresh air-both literally and metaphorically-while lending nature's beauty for engagement photos, this small yet lovely lake is the place to be!
The lake itself is in a beautiful neighborhood, so it's worth checking out if you fancy such a place to serve as a backdrop for your engagement photos.
In stark contrast to Lake Quarton, the Fisher Building is anything but simple. This is a magnificent structure that has played host to some of Michigan's most luxurious weddings. The floor plan, the lighting, and the grand structures and sections of the building all make for a magnificent location for engagement photos.
If you want something classy and prestigious that's coated with elegance, you can't do better than this famed place. Some of Michigan's most famous weddings were hosted there, and if that's not telling enough, we don't know what is!
There's arguably anywhere else you can go in Michigan for gorgeous waterfront views like the Fort Gratiot lighthouse. This is just one reason why it's the perfect backdrop for pictures that tell the world you're ready to start a new life with your loved one.
It's not the only lighthouse in Michigan but has been the favorite for many couples over the years. You can also climb inside it and take in views from the top.  That alone offers excellent opportunities from some truly amazing engagement photos!
It's one thing to get the perfect location but it's not enough, is it? You'll need professional wedding photographers and engagement photographers to ascertain the perfect photos are captured; Weddings by Elite will happily oblige!
We are an all-inclusive and professional wedding company from Warren, Michigan. We've mastered the art of pooling the most important aspects of planning a wedding.  Let us help make the process easier for you with DJ, photography, videography, lighting, etc. .
We always aim to please by offering tailor-made services that fit the unique need of each client, so no two weddings we cover are ever the same!
Weddings by Elite has been around for almost 30 years!  We have all the credibility you need for the exceptional services you deserve.   We have no doubt you will find that Weddings by Elite are more than a necessary addition to your wedding!
Reaching or contacting us is as easy as you clicking here! You can also come see us at 14061 13 Mile Rd #4, Warren, MI 48088, or call us at 586-415-4800.