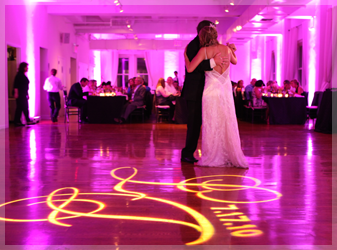 The day of the wedding, while momentous, can be fleeting. After months of preparations, the several hours of the celebration can seem to fly by. How do you hang on to these moments and make them last well beyond the actual day? The answer is Wedding Photography. As one of the leading providers of wedding photography in Oakland County, we can help you freeze these moments in time. With some of the industry's best photographers, we provide a variety of services to fit your wedding day needs.
Photographer of Your Choosing
We understand that wedding photos are about more than the quality of the camera and the photographer. To have genuinely exceptional pictures, you need a photographer you are comfortable with; someone who understands the shots that are most important to you. With our wedding photography services, we ensure that the individual responsible for capturing your big day is up to meet your standards. Also, to ensure that nothing gets in the way of your celebration, you will be guaranteed a backup photographer in the rare event that something prevents your chosen photographer from attending.
Style Selection
Just as every wedding photographer in Oakland County has their own unique style, so do couples. Therefore our photographers specialize in everything from contemporary to traditional, or artistic to photo-journalistic photographs. We will take the time to discuss and review the different styles and albums from our past clients to ensure that your photographer speaks to you as a couple. After all, your satisfaction is what matters most.
Multiple Locations
There is a common saying among businesses that location is everything, but this philosophy also extends to weddings and relationships. Often, couples have places that are meaningful and symbolic of their relationship. Whether a park bench or a local bus stop, you should not be limited to a specific number of stops with your wedding photographer. The photographs of your big day should commemorate your relationship, and they should not be impeded by expense. Therefore, as we understand the desire for commemoration and celebration, all of our photography packages include unlimited locations. Therefore, take your time and figure out where you would like to be photographed, and don't let the worry of added costs restrict or limit the celebration of your relationship or your wedding.
Photo Selection, Processing and Release
There is a concern among many engaged couples that they will not get the luxury of selecting multiple images or reprinting because many companies limit these decisions. Well, we don't believe in such limitations. You should be able to have the pictures you want without restriction. Therefore, we provide easy online viewing and ordering. We also provide you with all digital files of images and a release for reprinting. Last, we promise a quick turnaround because no couple should be forced to wait a year to relive their wedding day.
We believe that wedding photography services should be more conducive to the couples getting married and not the business. Therefore, we do not limit the number of locations or restrict access to photographs. Also, we understand how important it is that a couple meshes with their photographer and that their style is reflected in their photos, which is why we have several photographers available. When you hire us, you know you are getting quality and dedicated service because we cherish every relationship that comes through our doors. Contact one of our representatives at (586) 415-4800 to discuss our current packages, pricing and deals. Let us help make your wedding day a vivid memory that's worthy of a frame.